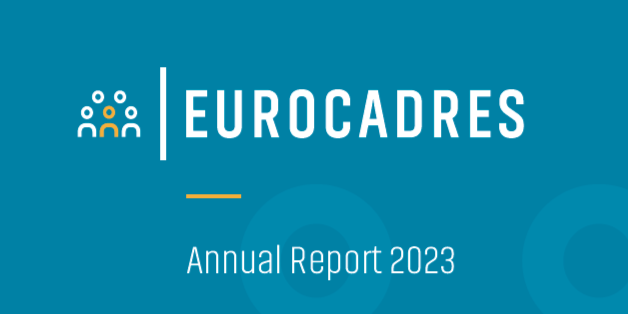 Destination Porto for this year's meeting.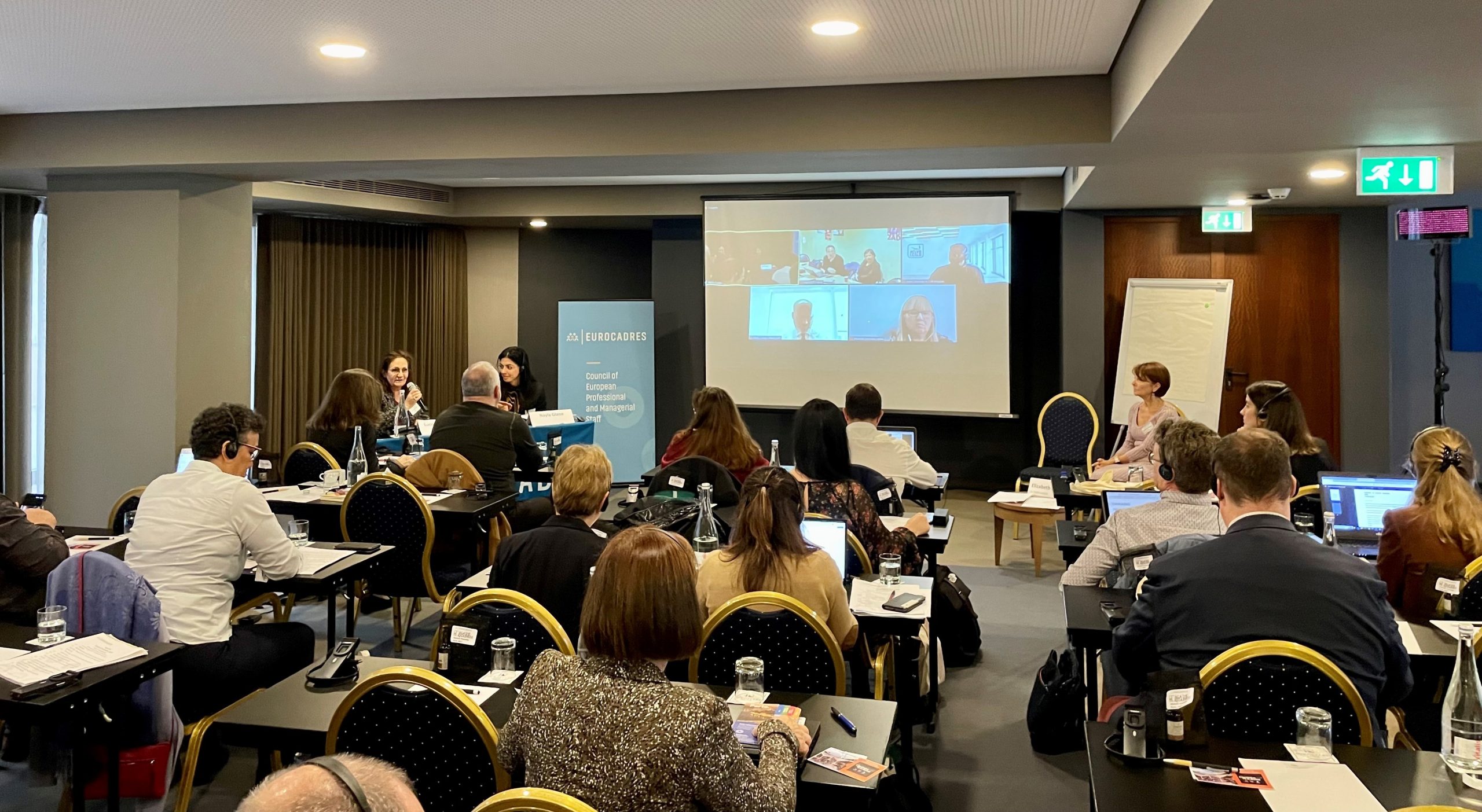 On November 15th, General Assembly 2023 took place in Porto, with thanks to the excellent hosting of our Executive Officer Elizabeth Barreiros and her colleagues at UGT-P General Workers' Union – Portugal (União Geral de Trabalhadores). Their welcome and organisation were, as expected, flawless.
With a packed agenda (which inevitably ran overtime), we were delighted to be joined by UGT-P's President Lucinda Dâmaso, ETUC's Deputy General Secretary Claes-Mikael Stahl, former Eurocadres Presidents Michel Rousselot and Martin Jefflén and (through an online contribution) Esther Lynch, ETUC's General Secretary. Adding over fifty of our members, a full house from multiple Member States contributed to a number of crucial discussions.
Approved documents
Various documents were tabled for adoption, including our climate change position paper "Working towards sustainability: Creating green and resilient European workplaces", our 2023 Annual Report and the following resolutions:
These adopted documents are the product of excellent work between and with members, who we thank for their discussion, input and, when needed, compromise.
"You have established yourself as a cornerstone of the cross-sectoral social dialogue … and successfully bring your members interests to the centre of policymaking" – Claes-Mikael Stahl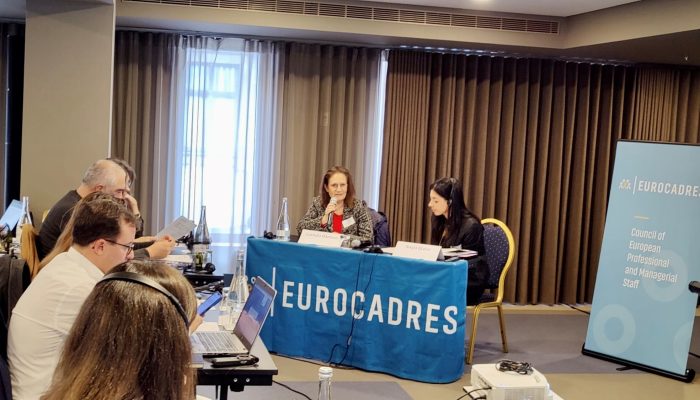 Reflections on Eurocadres' 30th anniversary
This year's assembly also marked the 30th anniversary of the creation of Eurocadres. Joined by presidents past, our first panel discussion focused on the original raison d'être behind our organisation, how we have developed and the emergence, and recurrence, of a number of conflicting issues.
Our early challenges were balanced by some important victories, with Michel Rousselot outlining how securing the status of a social partner fuelled both interest and growth. Reflecting on his time as president, comparisons were drawn between the initial need for the organisation to put forward our arguments with the need for continual recognition of the growth of P&Ms today.  Many of the challenges of a new organisation emerging were mitigated through our actions strengthening the work of ETUC from the initial conception of Eurocadres. With a number of legislative landmarks, the significance of both professionals and managers and our union continued to grow throughout this period, leading to more recent actions under Martin Jefflén.
While undoubtedly securing the Whistleblower protection directive was a central discussion point when looking back on his presidency, Martin was also the instigator of our EndStress campaign, while also completing a rebranding of the organisation, leading to the modernisation of many internal and external processes. Across a variety of policy areas, Eurocadres' role developed not only from providing an addition to pre-existing union issues, but also in instigating work in different fields, and ensuring that the needs of professionals and managers did not follow the wishes of other workers – but formed the basis for action which benefited workers in all categories.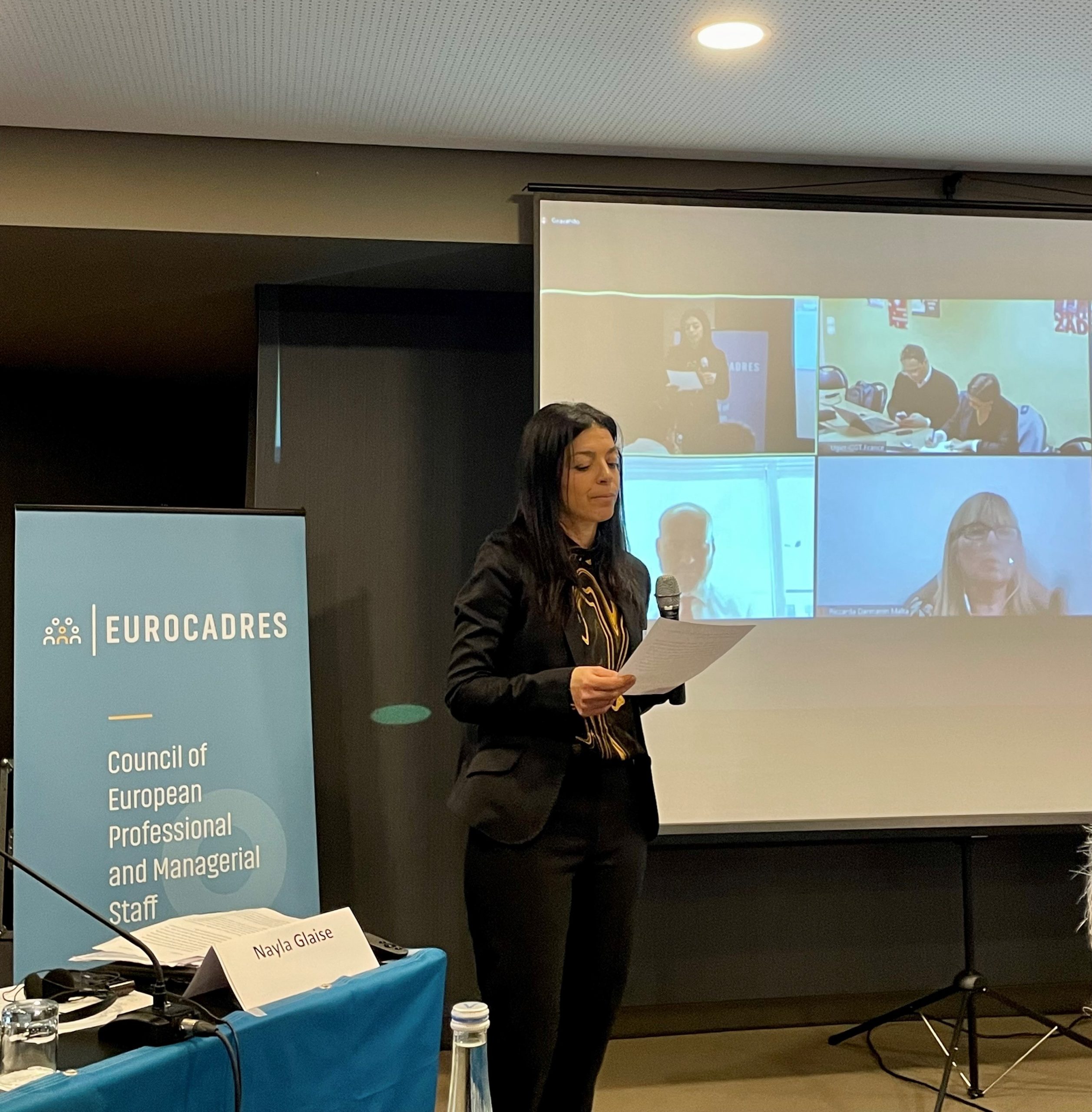 Navigating the ever-changing landscape: Meeting the challenges facing European professionals and managers
These reflections on thirty years of action fed into a wider group discussion on the direction we must take in the coming years. While the justification for Eurocadres remains clear, and received reaffirmation from ETUC leaders, former presidents and members alike, we have seen a significant level of growth, with this forecasted to accelerate even further in the coming years. While a positive in the fight to secure the voice of professionals and managers, this also presents challenges in organising and honing in on areas of political action.
"The belief you have shown in Eurocadres this year is greatly appreciated, and your solidarity is highly valued. Now is the time to continue to grow our union, and seize the opportunities presented to represent Europe's professionals and managers" – Eurocadres President Nayla Glaise
With a plethora of issues to address, this discussion is the first in a series of activities and writings we will engage in to look ahead to the next number of years. The European elections will undoubtedly play a role in the short-to-medium term planning for ourselves and members, but further discussions will be needed to earmark how to shape the next decades for European professionals and managers.
Next steps
As outlined by President Nayla Glaise during her opening speech, "It is important to celebrate what we have achieved so far, but more important will be discussing how Eurocadres can continue to grow and evolve in a changing political and trade union landscape. Your input, as the heartbeat of the organisation, will be crucial in this exercise … From social dialogue negotiations to public campaigns for worker's rights, our aim will be to continually modernise our activities, grow our network of members and likeminded organisations, and ensure that by 2025 we are a better-established force in European policy making". We will be hosting a series of discussions with members on where we go from here, and the actions needed to match the rising number of professionals and managers.